Chemometrics & Informatics / Books
Date: Oct 1, 1991
Author: William D. Kelley, Thomas A. Ratliff, Charles Nenadic
Marketing and regulatory pressures are driving laboratories to adopt statistically valid quality control or quality assurance systems. For the laboratory professional who's unfamiliar with the statistical tools used in laboratory quality control, Basic Statistics for Laboratories offers guidance to employing basic statistical controls or reports required by regulatory or accrediting organizations, as well as statistical methods which may otherwise be useful in the lab. The book explains, in basic terms,...
Read More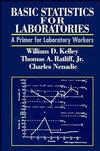 Date: Apr 10, 1991
Author: Harald Martens, Tormod Næs
Multivariate Calibration Harald Martens, Chemist, Norwegian Food Research Institute, Aas, Norway and Norwegian Computing Center, Oslo, Norway Tormod Næs, Statistician, Norwegian Food Research Institute, Aas, Norway The aim of this inter-disciplinary book is to present an up-to-date view of multivariate calibration of analytical instruments, for use in research, development and routine laboratory and process operation. The book is intended to show practitioners in chemistry and technology how to extract the...
Read More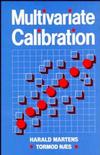 Social Links
Additional Links
Microsites