Mass Spectrometry of Non-Covalent Complexes: Supramolecular Chemistry in the Gas Phase
Books
Published: Sep 18, 2009
Author: Christoph A. Schalley, Andreas Springer
ISBN: 978-0-470131-15-2
Format: Hardcover
Extent: 592 pages
Channels: X-ray Spectrometry / NMR Knowledge Base / Infrared Spectroscopy / Atomic / MRI Spectroscopy / Raman / Base Peak / Proteomics / Chemometrics & Informatics / UV/Vis Spectroscopy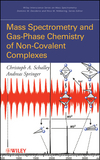 Details the many benefits of applying mass spectrometry to supramolecular chemistry
Except as a method for the most basic measurements, mass spectrometry (MS) has long been considered incompatible with supramolecular chemistry. Yet, with today's methods, the disconnect between these two fields is not warranted. Mass Spectrometry and Gas-Phase Chemistry of Non-Covalent Complexes provides a convincing look at how modern MS techniques offer supramolecular chemists a powerful investigatory toolset.
Bringing the two fields together in an interdisciplinary manner, this reference details the many different topics associated with the study of non-covalent complexes in the gas phase. The text begins with brief introductions to supramolecular chemistry and such relevant mass spectrometric methods as ionization techniques, analyzers, and tandem MS experiments. The coverage continues with:
How the analyte's transition into the gas phase changes covalent bonding

How limitations and pitfalls in analytical methods may produce data misinterpretations

Artificial supramolecular aggregates and their examination

Biomolecules, their complexes, and their examination
After the general remarks making up the first section of the book, the following sections describe specific experimental procedures and are illustrated with numerous examples and short tutorials. Detailed citations end each chapter. Mass spectrometrists, supramolecular chemists, students in these fields, and interested readers from other disciplines involving the study of non-covalent bonds will all value Mass Spectrometry and Gas-Phase Chemistry of Non-Covalent Complexes as an innovative and practical resource.
Social Links
Additional Links
Microsites
Most Viewed