Bad Medicine: Misconceptions and Misuses Revealed, from Distance Healing to Vitamin O
Books
Published: Oct 29, 2002
Author: Christopher Wanjek
ISBN: 978-0-471434-99-3
Format: Paperback
Extent: 288 pages
Channels: MRI Spectroscopy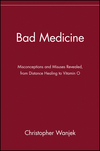 "Christopher Wanjek uses a take-no-prisoners approach in debunking the outrageous nonsense being heaped on a gullible public in the name of science and medicine. Wanjek writes with clarity, humor, and humanity, and simultaneously informs and entertains."
-Dr. Michael Shermer, Publisher, Skeptic magazine; monthly columnist,
Scientific American; author of Why People Believe Weird Things

Prehistoric humans believed cedar ashes and incantations could cure a head injury. Ancient Egyptians believed the heart was the center of thought, the liver produced blood, and the brain cooled the body. The ancient Greek physician Hippocrates was a big fan of bloodletting. Today, we are still plagued by countless medical myths and misconceptions. Bad Medicine sets the record straight by debunking widely held yet incorrect notions of how the body works, from cold cures to vaccination fears.

Clear, accessible, and highly entertaining, Bad Medicine dispels such medical convictions as:
* You only use 10% of your brain: CAT, PET, and MRI scans all prove that there are no inactive regions of the brain . . . not even during sleep.
* Sitting too close to the TV causes nearsightedness: Your mother was wrong. Most likely, an already nearsighted child sits close to see better.
* Eating junk food will make your face break out: Acne is caused by dead skin cells, hormones, and bacteria, not from a pizza with everything on it.
* If you don't dress warmly, you'll catch a cold: Cold viruses are the true and only cause of colds.


Protect yourself and the ones you love from bad medicine-the brain you save may be your own.
Social Links
Additional Links
Microsites