Watson & Sparkman, Introduction to Mass Spectrometry: Supplementary Files
Education Article
Published: Feb 1, 2014
Author: O. David Sparkman / J. Throck Watson
Channels: Base Peak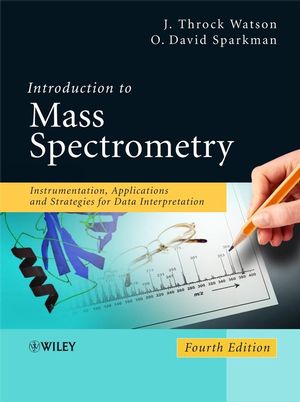 Introduction to Mass Spectrometry: Instrumentation, Applications, and Strategies for Data Interpretation
J. Throck Watson
O. David Sparkman


ISBN: 0470516348
Publisher: Wiley
Published: October 2007
Hardcover

More information and how to buy this book >>
To access the Instructor's Support files on this site, you must register by sending an e-mail to O. David Sparkman at ods@csi.com and request a password. Your e-mail should state that you are adopting Introduction to Mass Spectrometry: Instrumentation, Applications, and Strategies for Data Interpretation, 4th Ed. for a course. Please provide the course number, Department, and University/College.
All of the PowerPoint Files require Microsoft® PowerPoint® in Office XP® or Office 2003®. These files have only been tested on Microsoft XP® and Microsoft 2000® operating systems.
Individual PowerPoint files containing all the figures and many of the schemes are provided for all chapters except Chapter 6. These files can be used in the creation of your own presentations. There are "Support For..." PowerPoint files for Chapters 2, 3, 5, 6, 7, and 10. These are files that we have used in our courses. You can use them to develop your lectures for these chapters, or you can use individual slides in the development of your PPT presentations. These "Support For..." files contain animations that you may find valuable as is or as the basis for your own adaptations.
There is a series of seven EXE files provided by Thermo Fisher. Finn_LinTrap.EXE illustrates the functions of the linear quadrupole ion trap as implemented by Thermo Fisher. Thermo Electron.EXE is an animation of the time-events of an external ionization 3D quadrupole ion trap that uses the mass instability function. The remaining five EXE files are conceptual illustrations of individual sequential events involved in the operation of an external ionization 3D quadrupole ion trap in the MS/MS mode. These files can be associated with a slide in the "Support for Chapter 3.PPT" file.
There are also PPT presentations on functional operation of the ICR (authored by Michael Freitas, The Ohio State University), the Orbitrap (authored by Thermo Fisher and presented at the 2006 Pittsburgh Conference), and the Thermo Fisher implementation of the electron transfer dissociation (ETD) on the LIT mass spectrometer (also authored by Thermo Fisher). As additional files become available or as changes are made, these files will be posted. You are encouraged to send such files to O. David Sparkman (ods@csi.com) along with a permission statement for inclusion on the site. As a Registered Instructor, you will be notified by the authors when new material is available.
Once you have the password, you can access the files, by chapter, below:
Social Links
Additional Links
Microsites